04/09/2019
Goldilocks scenario is facing a serious exam. The S&P 500 is nearing a strong resistance at 2900/45
Profit taking is possible (FOMC Minutes, ECB meeting 10 April; US earnings season)
Back in 2016. Parallel to 2016 with local highs in April and a quarter or two of consolidation phase.
Trade war risks remain skewed to the upside (US-China, US-EU)
«Goldilocks»
Market friendly Goldilocks scenario (when the economy is neither overheating nor slowing down and monetary policy is favorable) is facing a serious exam after 15.6% S&P 500 rally this year. Investors might want to take a pause and make sure that there are enough reasons for the S&P 500 to surpass all-time high and the US stock market is not overbought or getting stretched.
In fact, the S&P500 is nearing a strong technical resistance at 2900-2945 where everything is possible from consolidation phase to profit taking or 7-10% correction.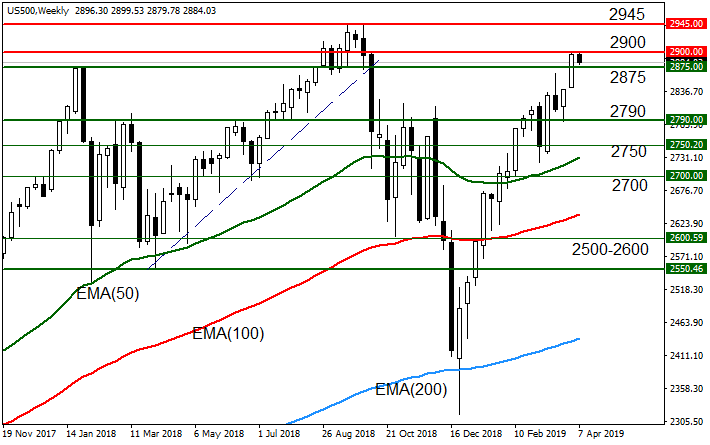 S&P 500 (Weekly)
Profit taking
The risk is that global central banks' policy U-turn during 2Q19 is largely priced in and markets unlikely to get more softer tone or stimulus from world CBs in nearest future. FOMC Minutes and the ECB meeting on Wednesday, 10 April, can be a trigger for understanding such limitations among investors.
The same can be actual in case of first-quarter S&P 500 earnings season (12.04 – Wells Fargo, JP Morgan) which is expected to be a tough one as earnings are predicted to have fallen 4.2% y/y, according to FactSet.
Besides seasonal patterns seem to be important as April is usually a successful month for US equities, but the S&P 500 often sets local highs in April with forthcoming «sell in May and go away».
Back in 2016
With some parallels to 2016 when the Fed also had to be cautious the S&P500 can follow a similar pattern as three years ago. Under such scenario the S&P 500 can set local highs in April and spend half a year consolidating not far from major resistance at 2900-2945.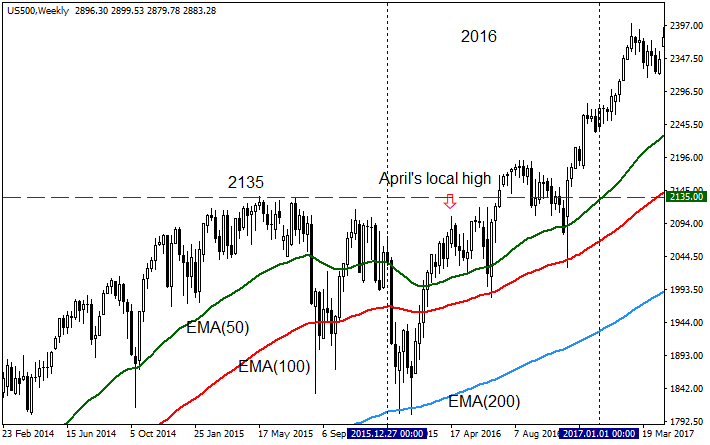 S&P 500 (Weekly)
Trade tensions
Although both China and the US are talking up the chances of a possible trade deal, trade tensions remain significant risk for US equities. Besides there are some "landmines" in the implementation and enforcement of a trade deal (Trade war 2.0), uncertainty regarding whether existing tariffs will be rolled back and so on. And with Bloomberg's "EU-U.S. Trade War Escalates Over Disputed Aviation Subsidies" (
https://www.bloomberg.com/news/articles/2019-04-08/trump-responds-to-eu-airbus-subsidies-with-threat...
), on balance, trade war risks remain skewed to the upside.