EUR/USD: general review
Sorting by categories
04/09/2019
Current trend
The euro is slightly strengthening against the US dollar, the nearest important resistance level is at 1.1286. After its breakout, growth to 1.1328 is possible.
Published on Friday, data on Nonfarm Payrolls indicate the growth of the US economy. The figure rose by 196K against the analysts' forecast of 175K. The increase occurs for the second consecutive month. Against this background, the probability of lowering the interest rate decreased to 49% against 60% a month earlier. We can get a more detailed picture of the country's economy from the FOMC minutes, which will be published on Wednesday evening. The second important event for the markets will be the ECB meeting, but, according to economists, nothing new is expected here, and the rates will continue to be at low values. The EU summit on Brexit will also take place on Wednesday: Theresa May asked the President of the European Council to postpone the deadline from April 12 to June 30 so that the country could find a compromise and provide an exit plan.
Support and resistance
Stochastic is at 80 points indicating possible correction.
Resistance levels: 1.1286, 1.1328.
Support levels: 1.1184, 1.1150.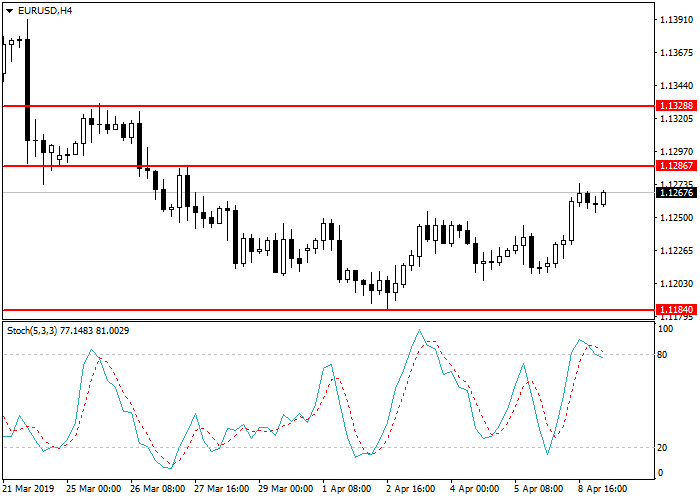 Trading tips
Short positions may be opened from the resistance level of 1.1286 with take-profit at 1.1184 and stop loss at 1.1328.