04/29/2019
Current trend
GBP continues its decline against USD within a narrow downward channel. In mid-March, the pair moved to a narrowing lateral channel and has been moving in it for a month. At the beginning of the last trading week, the instrument managed to break through the key support level of 1.3000 and went lower. The descending momentum persisted throughout the past week, and the pair reached 1.2865, having left the ascending range and moving on to the fall stage. The main catalyst for the decline was the favorable data on the labor market, durable goods orders and GDP, released in the US, which led to an increase in demand for USD.
During the current trading week, special attention should be paid to the data on the major indices of the US and the UK, as well as the Fed meeting with the interest rate decision and follow-up comments.
Support and resistance
In the short term, the pair is likely to fall to the levels of recent local lows of 1.2775, 1.2700. In the medium term, growth in demand for the US currency is expected due to the fact that the Fed is initiating the opportunity to once again raise the interest rate. The pound cannot recover under the pressure of Brexit decisions. Technical indicators confirm the decline forecast. MACD on the D1 chart indicates the rapid growth in the volume of short positions, and Bollinger Bands are directed downwards.
Resistance levels: 1.2975, 1.3000, 1.3030, 1.3160, 1.3215, 1.3300.
Support levels: 1.2855, 1.2775, 1.2700, 1.2640, 1.2585, 1.2410.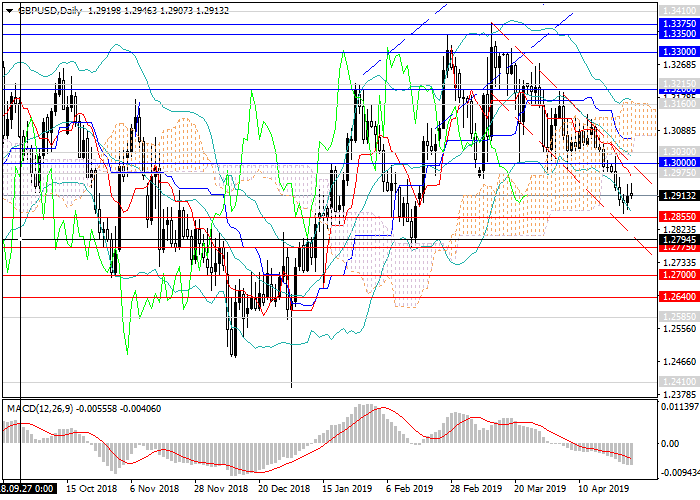 Trading tips
In this situation short positions may be opened from the current level with targets at 1.2700, 1.3640, 1.2585 and stop loss at 1.3060.